This is a letter from Mattyopolis, a.k.a. Matt Bullard, Cap'n Bully of the S.S. Circle of Death.
He's been piloting his beautiful homemade boat down the Mississippi since early July.
Both Jeff Stark and Kristina traveled with him before or after their own stints with the Miss Rockaway Armada.
His boat was sunk on Wednesday, October 18 leaving him high and dry and sending a sharp reminder to the rest of us that the Mississippi is a fierce waterway.
Please read on and send him support, even if it's to let him know your glad he's alive.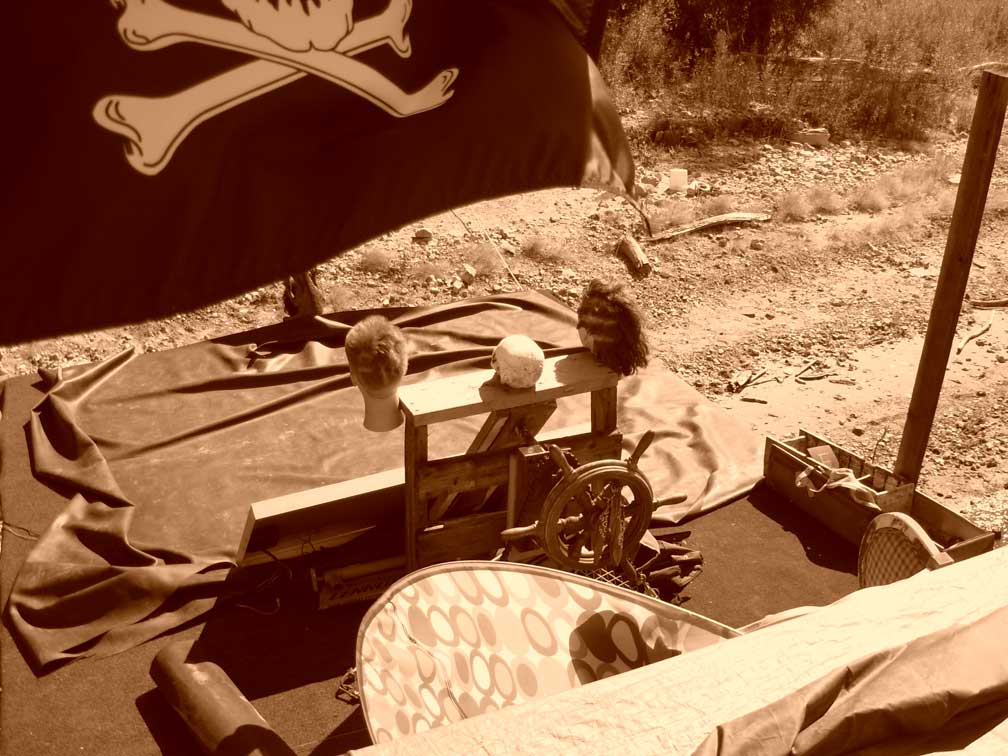 (p.s. a "circle of death" is an official nautical term for this scenario:
when operating a speedboat if one were to stand up and catch the throttle, gunning the engine and knocking the operator overboard while yanking the steering wheel hard to one side… the boat then races around full circle and runs over the operator, killing them)
***
From: Cap'n Bully veganhobo@yahoo.com>
Date: October 20, 2006 12:43:56 PM EDT
Subject: In need of help – Reaching out to friends and loved ones
Hi All,
This past Wednesday while floating through St Louis on my boat, we got stuck between an anchored barge and several tugboats. 3 of the tugs approached to tell us we were on private property and had to move, but blocked our only exit with their tugs and when a fourth approached from upriver, their wash/waves sent a huge rush of water over the side of my boat and sent it under water immediately. Luckily for us we were all able to climb atop the parked barge and escape a sure death from drowning. It was one of the hardest things in my life for me to watch my boat and life for the past year sucked down right in front of me. I escaped barefooted with tshirt and shorts, the rest of nearly everything I own was sucked down with the boat. I literally lost everything, all clothes, travelling gear, music, passport, pictures from my entire life, everything except my life, which I am grateful to still have. I am now in St Louis trying to heal and rebuild my life. I'm surrounded by an extremely loving and caring community, which is amazing for morale.
I'm writing to reach out to y'all, and this is difficult, because I try to be independent, but I am in dire need for financial help of any sort, money, REI gift cards, healing words on how to stay positive and get through the loss, anything positive that would help me in rebuilding my life. Also if anyone knows of a positive lawyer in the St Louis area that would help, I am seeking litigation to hold the barge company responsible for their tug operators negligence.
I am staying at the Bolo Zone in St Louis for a while, and the address here is:
3309 Illinois Ave
St Louis MO
63118
And until my mom sends me another cellphone, the # here is 314.772.9178. I have a Paypal account that is this same email address. I would love to hear from all of you. I'm also turning 32 on Nov.1. I hope you're all safe, warm, and well.
Matt
RIP SS Circle of Death