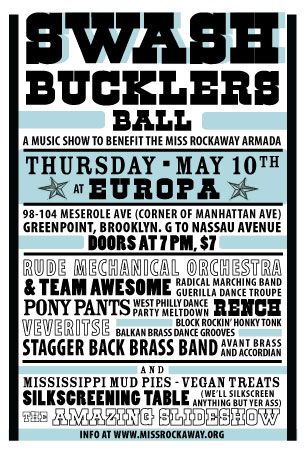 Swashbuckler's Ball
A Benefit for the Miss Rockaway Armada
Thursday, May 10th
Europa Nightclub in Greenpoint, Brooklyn
98-104 Meserole Ave., (corner of Manhattan Ave.)
G train to Nassau
Doors at 7 pm, $7, discount if you dress up real crazy like a pirate or other nautical character
Shake Your Booty to the Fantastic Talents Of:
Rude Mechanical Orchestra (radical marching band)
and Team Awesome (guerrilla dance troupe)
Pony Pants (West Philly dancepartymeltdown)
Rench (block rockin' honky tonk)
Veveritse (balkan brass dance grooves)
Stagger Back Brass Band (avant accordion and brass)
And:
Enjoy Mississippi-themed snacks! Get your random fabric and clothing
screenprinted by the Rockaway Crew! See the Amazing Slideshow!
Don't Forget to Dress Nautical: Pirates, Mermaids, Sailors, more!
The Armada is collective of people who traveled down the Mississippi
last year on rafts we built ourselves; a project of sustainability,
cultural exchange and adventure. Help send us down the river again,
this time all the way to New Orleans!
www.missrockaway.org
+++++