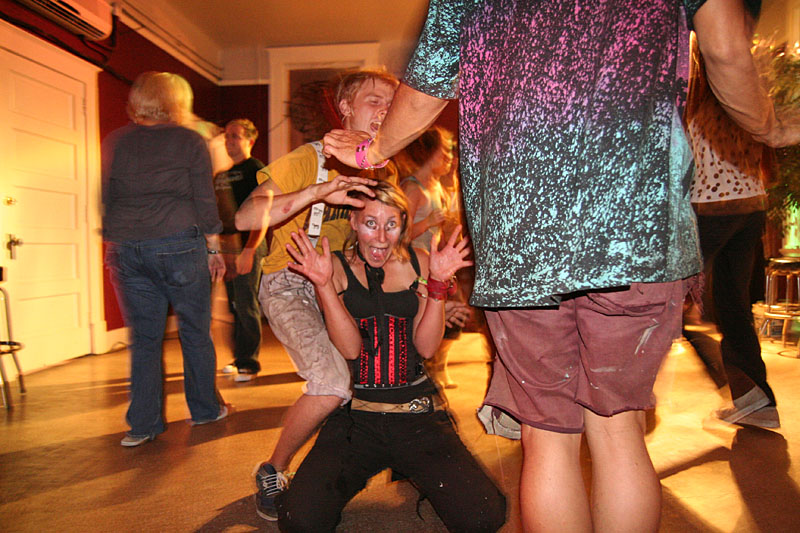 Ruling the dance floor at a gay club till they kicked us out.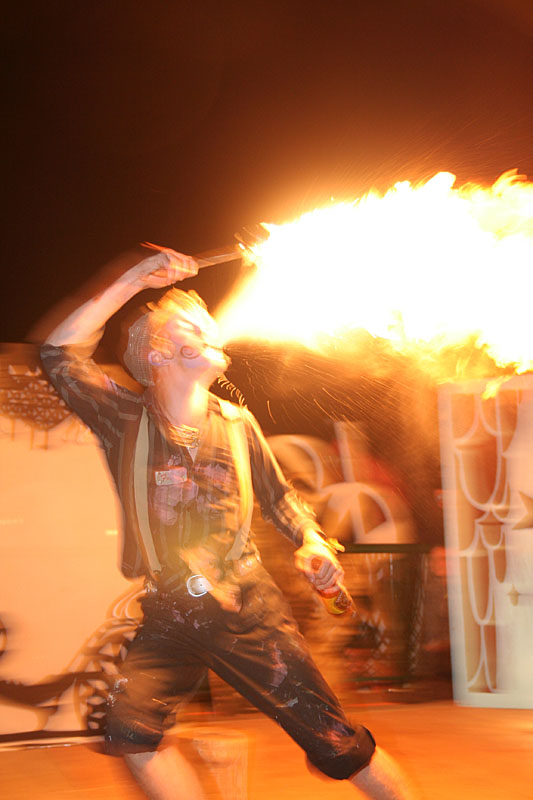 Harrison the Great performing his feats of fire-breathing daring-do.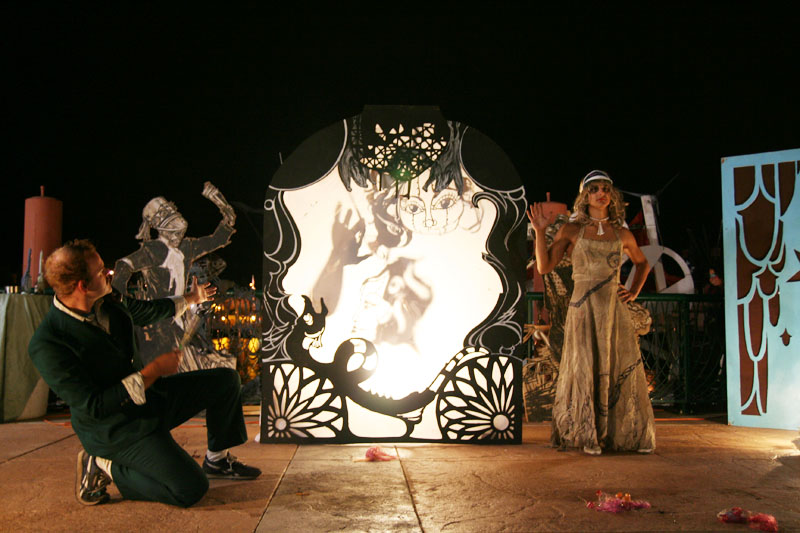 Telling the tale of Miss Rockaway.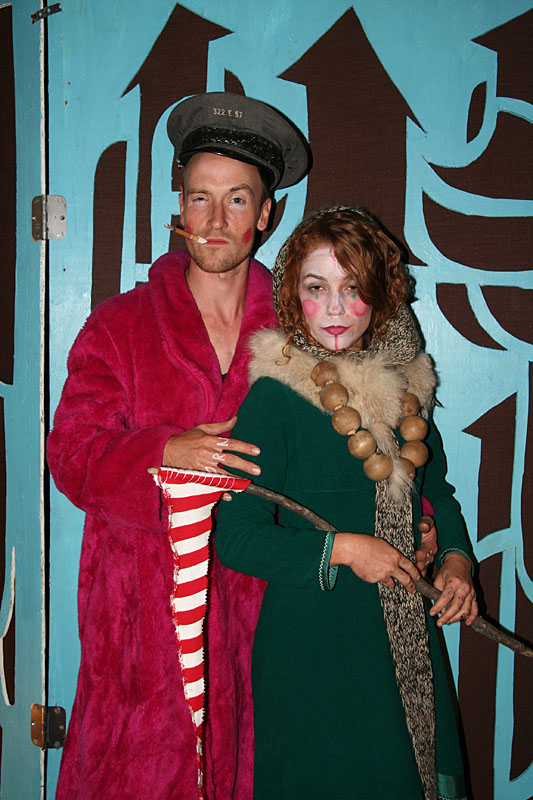 Dressing up as a high-rolling Ukranian couple before (almost) taking the Casino by storm.
So we ain't dead yet. Even with the departure of some valued crew members, we carry on. And we carried on to Dubuque, Iowa to be specific, but not after a great stay in Prarie Du Chen. We made a very valuable friend there, Jim the mythical generous Texan. He even came down to Dubuque to see our ever-changing performance. We also picked up a new crew member in Prarie Du Chen, Amber. We gave her a weird new haircut and welcomed her into the fold. In Dubuque we also had visits from several crew member's parents, which led to the inevitable scramble to utilize hotel room showers. Immediately following our performance on the grounds under the hulking Diamond Jo Casino boat, we ran off to a swanky art party in a huge warehouse. After perfomances by many of the musicians in our group, we absconded with all the leftover food from the nicely catered affair (with their blessing of course). The previous night had started with a nice low-key musical perfomance in a moody basement bar called Isabella's. It transformed into a dance party when someone popped on frantic Indian music. After being booted from there, we wandered across town on rumors of a gay club and a drag king show. We eventually spotted flashing slices of light sprouting from the windows of a small nondescript office building and made a beeline for it. The drag show was over, but we took the dance floor en masse. The sweat started running and the clothes came off. Eventually we were told they were closing, but noticed on our way out that we seemed to be the only patrons there who were under that impression. Afterward we followed a new friend back to her apartment for communal showers (gotta conserver water, after all). Pretty much a great stay in Dubuque, until this morning when most of us awoke in a couple inches of water. Even with our rain tarps in position, they weren't quite up to the job. Most of the day was spent drying clothes and sleeping bags at a laundromat, visiting our new best friend at the Mississippi Mug coffee shop, picking up scrap lumber and a new HUGE tarp from a friendly local, Kyle, and then re-tarping the boat. Tonight the crew scattered off to drier accomodations, with most of us squatting in an abandonded building. Tomorrow we hope to get on the river, rain or shine (but almost definitely rain) and mosey on down to the next unsuspecting town.
Oh, and new photos by Tod Seelie are up at EverydayILive.com.
P.S. Anyone out there between Dubuque and the Quad Cities have some boots they don't need? Size 9 – 9.5 mens. Or long underwear? Seriously, drop us a line.