Search Results for 'swoon'
Check out what's still available here
Featuring Swoon, Elbow-Toe, Dave Ellis, Doze Green and Dennis McNett!
We've been meaning to post a collection of some of the murals Armada members made during our extended stay in and around the Quad Cities. These pieces were one way we wanted to thank the incredible hospitality of our hosts; Ian, Bud and Andrew of Pheonix Gardens Farm in Coal Valley, and Vickie and Roger of Ducky's Bar in Andalusia.
Swoon wheatpaste at the Farm

Marshall and Nona paint up the Goat barn

Ellery, Jaci and Lisa painting a farm sign on the corn silo
Iminentdisaster's tractor on the farm
A thank you mural on an abandoned house boat at Ducky's

Distant glow and the night geese.

Ghost-riding the whip in the parking lot of the Mother Hubbard's Cupboard gas station.

Swoon's piece at Ian's farm.

The beaver dam I brush my teeth next to every night.

So damn cute.

We've had a few mishaps (he was okay in the end).

The addition of new work from Swoon on the side of the front raft.

We've already had to say goodbye to a few crew members as the summer progresses.

Where a lot of us sleep.

Local photographer and provider-of-pickup-truck Dennis photographing Ayen on her boat.

Sometimes life's okay.

Where our kitchen at the farm used to be.

Brodie with his steeple for the Garden Of Bling raft.

The Kirksville raft returns after a less-than-successful test run.

Dawn is pretty, even if you're supposed to be building in three hours.

A little visitor on the raft.
Just some photos to share from the past week or so.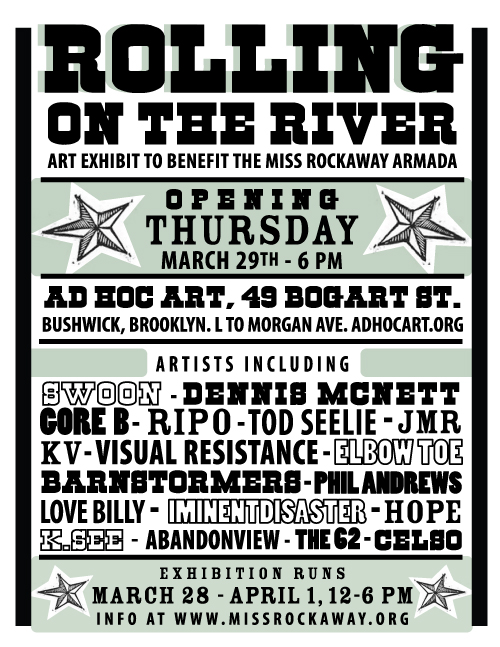 This Thursday!!! Come on down & get us on the river!! A benefit for Miss Rockaway with some incredible artists who have graciously donated work to support us.
Rolling on
the
River:

Art Exhibit to Benefit
the
Miss Rockaway Armada
Ad Hoc Art, 49 Bogart St. in Bushwick, Brooklyn
Opening reception on Thursday March 29th at 6 pm
Exhibition runs March 28th – April 1st
Open 12 – 6 pm
New York (March 26, 2007) – The Miss Rockaway Armada will host a benefit art exhibit in New York City on the evening of March 29, 2007 at 6pm. The group is calling on artists and art enthusiasts for their support to send this scrap-raft flotilla down the Mississippi River. Currently docked for the winter at a biker bar in Illinois, this group of artists, performers, dreamers and doers from all over the country will get back on the water in June. The group hopes to raise funds for much needed motors, fuel, nautical equipment and transportation. The auction will feature performances by members of the Armada and art from the river itself including a life-sized story booth decorated by David Ellis & Swoon. The benefit show will feature work from dozens of artists, including:
*Swoon
*Elbow-Toe
*The Barnstormers
*Dennis McNett
*Gore B
*Visual Resistance
*The 62
*Tod Seelie
*Space 1026
*and many more!
The Armada project was conceived by street artist Swoon, and has been built and organized by a collective of 25 artists, performers and activists from New York, San Francisco, Seattle and Wisconsin. The collective floats down the Mississippi River on a 110 foot raft made of scrap materials. Last year they spent months gathering resources to build this floating home/art project, then floated from Minneapolis to Andalusia, Illinois; all the while stopping to meet people, share skills, perform, swap stories, and otherwise engage in cultural exchange. However, they have many miles to go before they reach New Orleans. The Armada is gearing up to tackle the Big Muddy again and are eager to see who and what they will encounter as they continue the impossible experience that characterizes Miss Rockaway.
The group is creating a mobile cultural center that embodies their search for creative and sustainable ways of living.
For information contact A'yen Tran, ayen@missrockaway.org. Ad Hoc Art is located at 49 Bogart St. in Bushwick, Brooklyn.
###